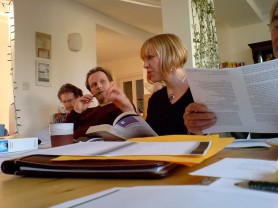 The Glasfryn Seminars were initiated as a response to what the organisers perceive as a paucity of opportunities in Wales for writers (as well as interested readers) to come together to exchange ideas on the nature of poetry, literature and the arts in general.
Whilst readings and workshops continue to flourish, discussion seems largely sequestered in the universities or drip-fed through the pages of the periodicals. What was needed, we felt, were more venues and occasions at which practitioners could gather informally to chew the fat, examine the texts, the archetypes and the theories, and mull over current trends and contradictions in the local and the wider cultural scenes.
Without these kinds of resource any culture is just a bundle of loose threads; worse, it can become merely self-perpetuating and self-satisfied. The health of any artistic community depends on the vitality of the interactions going on inside and around it. It's through the rough and tumble of debate and exchange that practitioners keep their thinking open and alive, embodying a culture that is more than just the rumour of a culture.
Unfortunately, we have no Parisian-style cafe-milieu here – the writers of Wales tend to be scattered far and wide – but we discovered that there is a hunger for more connection and that people are prepared to put the miles in for a chance to get their heads together with their peers.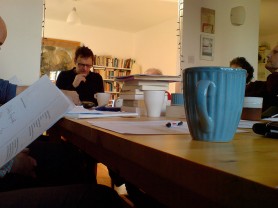 The seminars kicked off a couple of years back with a Dante-day, presented by David Brancaleone, and reconvened in March 2008 for an exploration of the work of Charles Olson, led by poet and literary-theorist, Anthony Mellors. Since then we have had seminars on Mallarmé led by Patrick McGuinness; on Language, Poetries and Place, with Ian Davidson; on Avant-Garde Women's Poetry with Frances Presley; and on Responses to the City by Contemporary Poetry by Women, with Zoe Skoulding. Most recently (November 2010) we played host to a meeting of the Border/Lines group, led by Philip Gross, Alice Entwistle and Kevin Mills.
Huge thanks are due to academi for their financial and moral support.